 A haven of peace to experience the most beautiful of the islands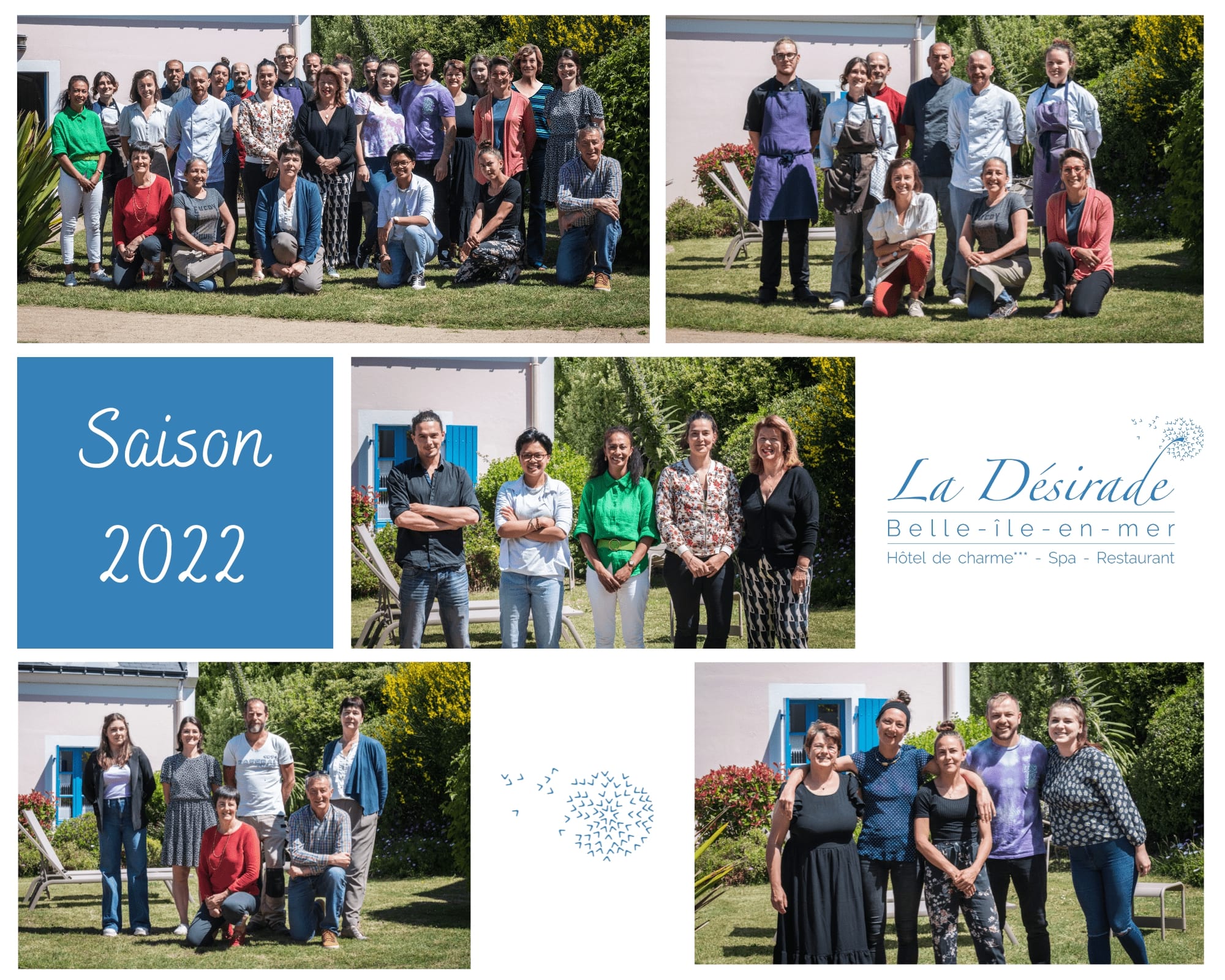 La Desirade, one soul, one spirit
An atypical hotel, a "house" made of nature, humanity, serenity and special touches.
Passionate about meeting people, discovering landscapes and lovers of Belle-Île-en-Mer, we chose to go beyond our dream and become hotel operators in 2005. La Désirade is the result of a long reflection on what we like to do: share moments of life, create bonds.
During a break, La Désirade invites you to relax, to enjoy the moment in an extraordinary place, a thousand miles from everyday life…
La Désirade is a journey in the heart of Belle-Île-en-Mer, focused on what truly matters: nature, human relationships, the pleasure of emotions.
Between sea and countryside, the largest of the Breton islands is a jewel of preserved nature.
With its wild coasts, moors, forests or large sandy beaches, the one we also call "La bien-nommée" offers extraordinary diversity in any season and thrills all the senses.
Beautiful, simple, wild, authentic, but also fragile, we learn a lot from Belle-Île every day if we know how to listen to to this magic island.
Why book directly?
Best prices of the moment
Best conditions for the reservation
Free late Check-out and early Check-in
Immediate processing of your booking, and securised transactions
Our advice and personnalized help 
Exclusive offers and reductions
Our latest available rooms
Hotel in Belle Ile en Mer
A charming hotel composed of 6 small pink houses, typically from Belle-Île-en-Mer, designed as guest houses and scattered in the middle of a large landscaped garden. A promise of intimacy and absolute calm. By opening the blue shutters, you are in the heart of nature…
Hôtel *** à Belle-Île-En-Mer
Un hotel de charme composé de 6 petites maisons roses typiquement belliloises, conçues comme des maisons d'hôtes et dispersées au milieu d'un grand jardin paysager. Une promesse d'intimité et de calme absolu.
En ouvrant les volets bleus, vous êtes au cœur de la nature…
Avec une décoration apaisante et une harmonie de tons pastels et de boiseries, les 28 chambres et les 4 suites familiales de notre hôtel de charme sont toutes non-fumeurs, claires, spacieuses, bien équipées, ouvertes sur le jardin, avec de belles salles de bains.
Notre piscine extérieure chauffée et notre Spa-Espace Bien-Être, avec sauna, hammam, jacuzzi répartis sur plus de 100 m², sont en accès libre. Modelages, soins corporels et d'esthétique avec supplément, sur rendez-vous.
Au restaurant, une des belles tables de l'île, Pacôme Epron, jeune Chef inventif et amoureux de Belle–Île, et son équipe, vous proposent une cuisine misant sur les produits frais, de saison et essentiellement locaux. Coralie LEGENDRE, notre maître d'hôtel assure avec son équipe un service soigné et attentionné, et vous guide dans la découverte d'une carte des vins pour « initiés ».
Plébiscité par les clients de notre hôtel, le petit déjeuner, buffet de produits maison gourmands et copieux, est servi jusque tard dans la matinée.
À « La Désirade », bien qu'à deux pas de la côte Sauvage, on ne voit pas la mer, mais elle est toujours proche : aux grandes marées, on peut même entendre le grondement des vagues de Donnant ou des aiguilles de Port Coton. Bien à l'abri des vents d'Ouest et des embruns derrière ses grandes haies d' éléagnus, le jardin foisonnant regorge de « petits coins » où vous pourrez vous isoler, allongé sur une chaise longue à l'ombre des eucalyptus et des arbres fruitiers.